Shop Mobility - Free service
You can find our Shopmobility offices within The Grafton on the fourth floor of the Grafton East car park.
The office is open Monday to Saturday, 10:00am to 5:00pm and 11:00am to 4:00pm on Sundays.
If you are arriving by bus or taxi, we can meet you from the bus station and bus stops but this facility must be pre-booked.
Registration
Proof of your name and address is required before a mobility aid will be issued. Please provide a passport or driver's license and a recent utility bill.  You will be required to undergo a short test to ensure you are competent using an electrically powered chair or scooter; when you are both confident and happy you can use it then away you go.  We also require completion of a simple form for insurance purposes.
Bookings and contact details
To make sure that a suitable mobility aid is available pre-booking is advised. Please phone the office or send an email to shopmobility@cambridge.gov.uk. Staff will confirm the booking. The office has a 24-hour answerphone so please leave a message and your contact details so we can get back to you.
Grafton East office – Telephone 01223 461858
Cold Weather Provision
During cold weather we check the pavements daily for ice and snow. If pathways are clear, scooter and wheelchair use is allowed outside The Grafton.  In the event of heavy snowfall or ice, scooter and wheelchair use is only permitted in the shopping centres themselves.
Wi-Fi
We offer free Wi-Fi to all visitors at The Grafton.To get online at the centre, search for TheGraftonWiFi on your smartphone or tablet and simply complete a few details to have instant access.
Charity and Community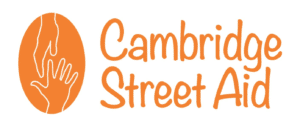 Cambridge Street Aid
The Grafton's Charity of the Year Partner
Cambridge Street Aid helps people on the streets to turn a corner. They do this by raising funds from which people who are street homeless – or who have been in the past – can apply for a grant to help them get off, and stay off, the streets.
There are lots of reasons why people beg on the street. Each person has their own story to tell, and many of us instinctively want to give money to someone we think needs our help. But giving money directly to people on the streets can actually keep them on the streets for longer.
As well as providing practical help to people on the streets, Street Aid gives those who want to help an alternative to handing money directly to people. If you donate to Street Aid, your donation is combined with hundreds of others to make a meaningful sum that will make a real difference to someone's life. Every single penny donated goes directly to grants for individuals.
We're committed to supporting our local community from charity collections to community events.
Community Events
Throughout the year we host a range of events for local clubs, charities and organisations, if you have a community event that you would like to hold at The Grafton please contact us.
Opening Hours
| | |
| --- | --- |
| Monday: | 9am – 5.30pm |
| Tuesday: | 9am – 5.30pm |
| Wednesday: | 9am – 5.30pm |
| Thursday: | 9am – 5.30pm |
| Friday: | 9am – 5.30pm |
| Saturday: | 9am – 6pm |
| Sunday: | 11am – 5pm |
* Opening times for our stores may vary. Please see their individual store pages for more information.
Christmas Opening Hours
Christmas Eve 10am – 4pm
Christmas Day Closed
Boxing Day 10am – 5pm
Wednesday 27th – Saturday 30th December 9am – 5.30pm
New Year's Eve 10am – 4pm
New Year's Day 10am – 5pm
Food Social Opening Hours
| | |
| --- | --- |
| Monday: | 11am – 10pm |
| Tuesday: | 11am – 10pm |
| Wednesday: | 11am – 10pm |
| Thursday: | 11am – 10pm |
| Friday: | 11am – 10pm |
| Saturday: | 11am – 10pm |
| Sunday: | 11am – 10pm |
Parking tariffs
The car park at the centre is managed and run by Cambridge City Council and operates a pay as you go system with ticket machines located across the site.
We operate separate daytime and evening tariffs. If your stay includes both daytime and evening/overnight charges you must add them together.
If your stay includes more than one day, keep your ticket; the pay machine will calculate the full price when you are ready to leave.
Payment options:
Payment can be made using cash and cards, including contactless
First 3 hours free for Blue Badge holders
Season tickets available for businesses
Further information:
Enter our postcode CB1 1PS into your SatNav, and it will make finding us easier
Maximum height 1.98 meters (6 feet 6 inches)
Park Mark status awarded
Borrow a scooter from Shopmobility
874 spaces including:
For parking enquiries please call 01223 458515 or 01223 457337 (out of hours)
Email: carparks@cambridge.gov.uk
Parking Charges
Day and time
Up to 1 hour
Up to 2 hours
Up to 3 hours
Up to 4 hours
Up to 5 hours
Over 5 hours
Monday to Friday, 8am to 7pm – Peak-time tariff
£2.80
£4.80
£7.40
£11.70
£20.40
£28.30
Monday to Friday, 10am to 7pm
£2.30
£3.80
£5.90
£9.70
£17.90
£25.30
Saturday, 9am to 7pm and Sunday, 10am to 7pm
£2.50
£4.60
£6.50
£11.00
£19.00
£25.30
Saturday, 11am to 7pm and Sunday, 11am to 7pm – Peak-time tariff
£3.00
£5.60
£8.00
£13.00
£21.50
£28.30
Evenings and overnight
80p per hour
Please note, if you park between 8am and 10am you'll be charged according to our peak-time tariff. Parking will cost an additional 50p per hour for every hour (or part hour) of your stay.
Escape at The Grafton
Escape at The Grafton will remain closed until further notice. The health of our retailers, centre teams and visitors is paramount and we are working hard to ensure people are being supported wherever possible. We look forward to welcome groups and charities back when restrictions are lifted and it is safe for us to do so. We thank you for your patience and understanding this challenging time. We will keep our customers updated of developments via our various digital communication channels.