Shop Mobility - Free service
You can find our Shopmobility offices within The Grafton on the fourth floor of the Grafton East car park.
The office is open Monday to Saturday, 10:00am to 5:00pm and 11:00am to 4:00pm on Sundays.
If you are arriving by bus or taxi, we can meet you from the bus station and bus stops but this facility must be pre-booked.
Registration
Proof of your name and address is required before a mobility aid will be issued. Please provide a passport or driver's license and a recent utility bill.  You will be required to undergo a short test to ensure you are competent using an electrically powered chair or scooter; when you are both confident and happy you can use it then away you go.  We also require completion of a simple form for insurance purposes.
Bookings and contact details
To make sure that a suitable mobility aid is available pre-booking is advised. Please phone the office or send an email to [email protected] Staff will confirm the booking. The office has a 24-hour answerphone so please leave a message and your contact details so we can get back to you.
Grafton East office – Telephone 01223 461858
Escort Service Staff
Escort Service Staff are available to accompany you on a shopping trip or visit should you need assistance for up to two hours.  The escort service is available for both wheelchair users and the visually impaired.  It is essential this service is booked in advance and slots are available from both centres, Monday to Friday from 10am-4pm.
Database Upgrade
The Shopmobility computer database management system is being upgraded. As a result we will need to re-register all our customers, to ensure that our information is up-to-date.  For further information please call us on 01223 457452.
Cold Weather Provision
During cold weather we check the pavements daily for ice and snow. If pathways are clear, scooter and wheelchair use is allowed outside The Grafton.  In the event of heavy snowfall or ice, scooter and wheelchair use is only permitted in the shopping centres themselves.
Wi-Fi
We offer free Wi-Fi to all visitors at The Grafton.To get online at the centre, search for TheGraftonWiFi on your smartphone or tablet and simply complete a few details to have instant access.
Community
We're committed to supporting our local community from charity collections to community events.
Community Events
Giving Tree
Giving Tree: "Every year at Christmas time we erect The Grafton Giving Tree, thousands of presents are donated from our customers and are distributed to local children's charities. In 2016 8,673 presents were distributed to the following charities: EACH (East Anglia Children's Hospice), Cambridge Women's Aid, Teenage Cancer Trust (TCT), CLIC Sargent, Home Start, Little Miracles and various social services across the area. The Grafton Giving Tree is run in conjunction with Heart FM.
Other Commmunity Events
Throughout the year we host a range of events for local clubs, charities and organisations, if you have a community event that you would like to hold at The Grafton please contact us.
Charity
Wood Green Animal shelter

Wood Green, The Animals Charity is one of the Grafton Centre chosen local charities for 2017 and they will share their animals' knowledge and experience in the Great Court every last Saturday of the month with a programme of demos, talks or meet the animals across the year.
From humble beginnings in 1924 and the subsequent headquarter move to Cambridgeshire in 1987, Wood Green's Godmanchester centre has become one of the largest animal rehoming centres in Europe for the care of dogs, cats, small and field animals.
The charity takes in unwanted and lost animals, provides shelter and care, finds secure and loving homes, provides advice, support and guidance for pet owners and increases the public's awareness of its responsibility towards animals in society.  Their dedicated teams believe owning an animal is one of the most rewarding things we can do and they are here to offer help and support to both people and their pets.  Around 5,000 animals are rehomed every year and up to 650 animals can be in their care at any one time.
There are lots of ways you can help, like rehoming an animal, volunteering your time, making a donation or visiting their Godmanchester site.
For more information on Wood Green, The Animals Charity please visit:
Jimmy's night shelter: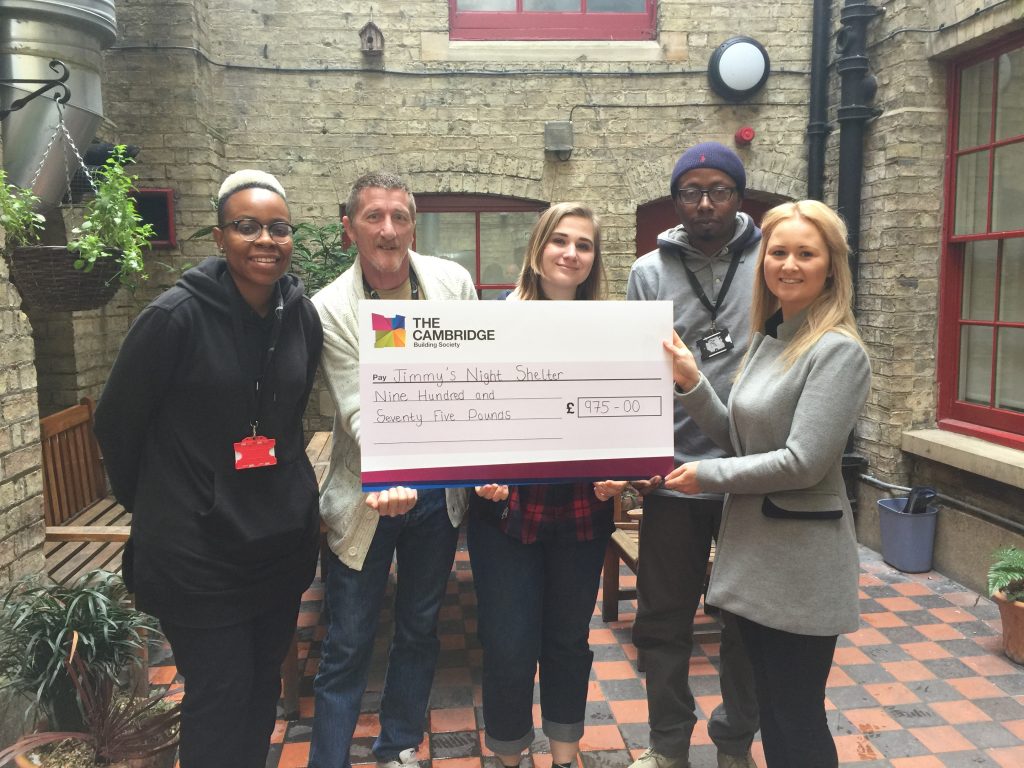 For over 20 years, Jimmy's has been providing help for the homeless in Cambridge. We work with the local Community, Volunteers and Partner agencies to deliver 24/7 emergency accommodation and supported housing for those who would otherwise be homeless or vulnerably housed.
In the last year, we have worked with over 400 different people, supporting them through positive changes and we have helped over three quarters of them resettle into more suitable and stable accommodation, leading them towards an independent lifestyle.
For more information, or to learn how to get involved, please visit:  http://jimmyscambridge.net
Each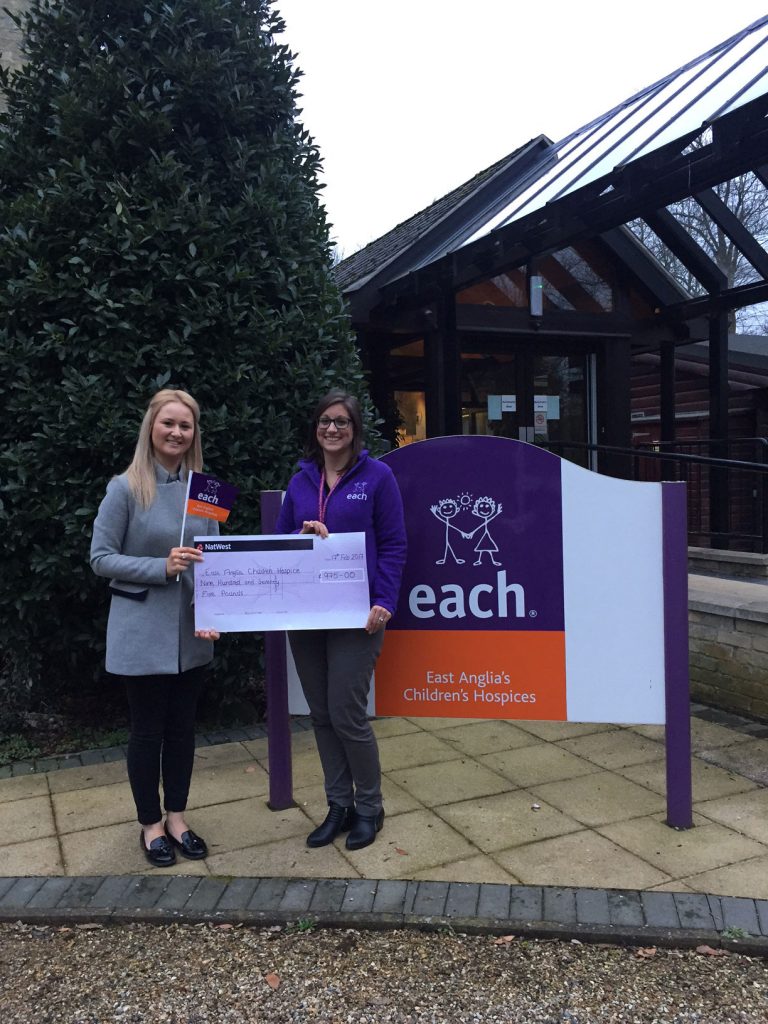 East Anglia's Children's Hospices (EACH) supports families and cares for children and young people with life-threatening conditions across Cambridgeshire, Essex, Norfolk and Suffolk. Our family centred approach includes specialist nursing care, symptom management support, short breaks, wellbeing activities, therapies and counselling; all meeting the individual needs of the child, young person and whole family.
We offer families flexibility and control over where they receive their care and support, including where their child dies; at home, in hospital or at one of three hospices at Milton (Cambridge), Quidenham (Norfolk) and The Treehouse (Ipswich).  More than half of our care and support is delivered in the family home and community, in surroundings familiar and comfortable for the family.
Our hospices aren't just about end of life care; they're often very happy and fun places, where young people can live life to their full potential. They are places where families feel safe, at home and where they can spend quality time together; enabling parents to be parents not caregivers. When time is short, we help families make the most of their precious time together and create memories that last forever.
We provide our specialist medical and emotional support completely free of charge. We rely on voluntary donations for the majority of our income and each year need to raise more than £5 million from fundraising and £2.5 million from our shops.  The more funds we have, the bigger difference we can make to local children and families.
For those accessing care and those who have been bereaved, EACH is a lifeline at an unimaginably difficult time.
For more information about how you can support or volunteer with EACH and our services please visit www.each.org.uk.
We will be in the Great Court at the Grafton Centre at least once a month with different activities and events taking place – if you see us do stop and say hello.
For a list of planned dates please contact the fundraising team on 01223 204916 or [email protected].
Cambridge Football Club

Cambridge United Community Trust is the charitable arm of Cambridge United. We use the club's brand to have a positive impact on the local community. This is through our main themes of health, education and inclusion. To find out more click here
If you would like to support your local team on match days or if you are just after a fun family day out, a luxurious sit-down meal or simply the chance to watch some live football and soak up the atmosphere, Cambridge United has an experience for you!
On match day, our hospitality packages and match day experiences courses such as mascots and birthday party packages ensure we have an offering for all! Meanwhile away from the excitement of game day, our facilities provide an ideal area to celebrate with family and friends in our function rooms or host business conferences and networking events.
Opening Hours
| | |
| --- | --- |
| Monday: | 9:00 am – 5:30 pm |
| Tuesday: | 9:00 am – 5:30 pm |
| Wednesday: | 9:00 am – 8:00 pm |
| Thursday: | 9:00 am – 5:30 pm |
| Friday: | 9:00 am – 5:30 pm |
| Saturday: | 9:00 am – 6:00 pm |
| Sunday: | 11:00 am – 5:00 pm |
Easter Opening Hours
Good Friday – 9:00 am – 5:30 pm
Saturday – 9:00 am – 6:00 pm
Easter Sunday – The centre will be open to customers of Vue Cinema, Pure Gym, Amelie, Bella Italia and Costa only.
Easter Monday – 10:00 am – 5:00 pm
Please check with individual stores for Easter trading hours as some store hours may vary.
Please note Boots will be open from 11:00 am – 5:00 pm on Easter Monday.
Parking tariffs
The car park at the centre is managed and run by Cambridge City Council and operates a pay as you go system with ticket machines located across the site.
We operate separate daytime and evening tariffs. If your stay includes both daytime and evening/overnight charges you must add them together.
If your stay includes more than one day, keep your ticket; the pay machine will calculate the full price when you are ready to leave.
Payment options:
Payment can be made using cash and cards, including contactless
First 3 hours free for Blue Badge holders
Season tickets available for businesses
Further information:
Enter our postcode CB1 1PS into your SatNav, and it will make finding us easier
Maximum height 1.98 meters (6 feet 6 inches)
Park Mark status awarded
Borrow a scooter from Shopmobility
874 spaces including:
For parking enquiries please call 01223 458515 or 01223 457337 (out of hours)
Email: [email protected]
Parking Charges
Day and time
Up to 1 hour
Up to 2 hours
Up to 3 hours
Up to 4 hours
Up to 5 hours
Over 5 hours
Monday to Friday, 8am to 7pm – Peak-time tariff
£2.80
£4.80
£7.40
£11.70
£20.40
£28.30
Monday to Friday, 10am to 7pm
£2.30
£3.80
£5.90
£9.70
£17.90
£25.30
Saturday, 9am to 7pm and Sunday, 10am to 7pm
£2.50
£4.60
£6.50
£11.00
£19.00
£25.30
Saturday, 11am to 7pm and Sunday, 11am to 7pm – Peak-time tariff
£3.00
£5.60
£8.00
£13.00
£21.50
£28.30
Evenings and overnight
80p per hour
Please note, if you park between 8am and 10am you'll be charged according to our peak-time tariff. Parking will cost an additional 50p per hour for every hour (or part hour) of your stay.