The Campus at The Grafton – your community space
The Grafton introduced a two-fold community hub initiative, The Campus, which is offering businesses and organisations a dedicated area for connecting with members of the public in Cambridge.
The first space under The Campus' brand – Escape at The Grafton – opened in May 2019. Escape is located close to Fitzroy street entrance, opposite Trespass and has been created to capture the beautiful surroundings of Cambridge's Botanical Gardens, encouraging visitors to enjoy its relaxing ambience and the general quietude it will bring.
Local groups are invited to host meetings, workshops, activities, training days and more, which can be booked free of charge here. At other times, it will also offer visitors an opportunity to recharge or simply enjoy a peaceful moment in the tranquil surroundings, while on a day out at the centre.
The Grafton is committed to its local community and delighted that we have the chance to provide a free community area right in the heart of our city. Many of our outstanding local organisations are welcome to book the space whilst offering groups a regular place where people can meet, catch up and support each other.
Bookings for Escape at The Grafton are flexible and can be made for as long as needed, whether it's an hour or a full day. When not in use, shoppers keen to take time out, can pop in and make the most of the calm environment the hub offers.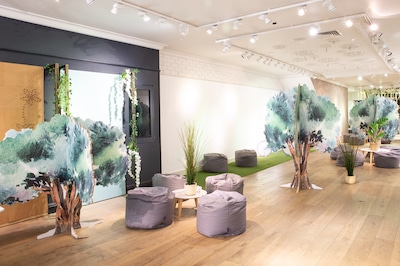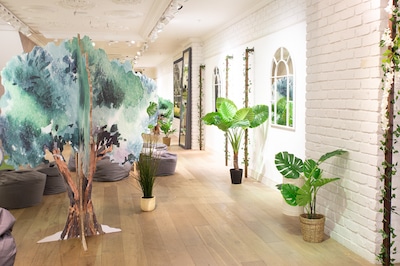 The second concept under The Campus, launched in September 2019 – Discover at The Grafton  and implemented with a purpose of providing the people of Cambridge with a space to work, study and read in an environment inspired by the wonderful and historical libraries located right across the city.
Discover at The Grafton, handily located next to Costa, is free to the whole local community to utilise without the need of having to book. The space also includes a Book Exchange Station, while the shopping centre has also teamed up with Oxfam, the UK charity fighting against global poverty, with the installation of a recycling station for the community to donate their old and unwanted clothes and shoes.
The space is beneficial to a range of different people. Whether you are a student preparing for your latest exam or project, young professionals needing a quiet place to get your head down and get your work done or simply catch up on some reading.
Come in and join us with this free and innovative community area right in the heart of our city. Just as Escape at The Grafton has proven to be, Discover will be a valuable and engaging addition to The Campus.