Amélie Restaurant Opens in Cambridge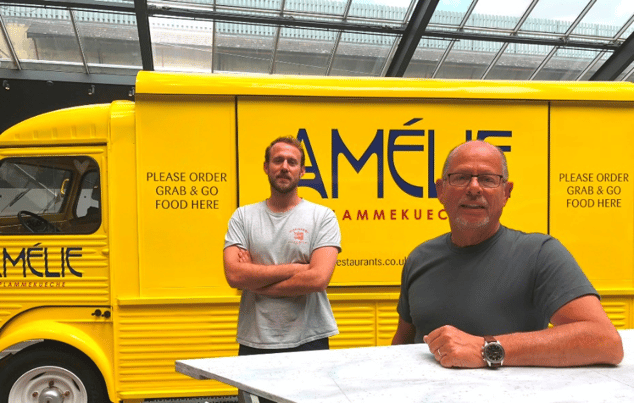 The First UK Restaurant dedicated to Flammekueche
Regis Crepy, one of East Anglia's most respected chefs and restaurateurs is delighted to be opening Amélie on 2nd  August in Cambridge, his new fast-casual restaurant and the first in the UK dedicated to serving Flammekueche – a dish, created in the 14th century in the Alsace region of France, yet perfect for today's lifestyle.  Light and fresh, it is made with very thin bread dough, spread with crème fraiche, delicious topping combinations of the finest quality ingredients and cooked very quickly and crisply retaining all the fresh flavours.
Regis, who has owned three successful restaurants in Suffolk including the celebrated Great House in Lavenham for 32 years is opening Amélie with his son Alex, says: "We are both so excited to be embarking on a new venture and bringing Flammekueche to this country. There are some fantastic brands in Cambridge and we feel that this new eating experience of a relatively unknown dish will fit right in and appeal to a wide audience as it is great for sharing and can be eaten at any time of the day."
Amélie's menu is concise and Flammekueche-centric. A choice of tempting tapas style starters such as half a cauliflower roasted in paprika served with spicy creamy cheese sauce, sardines with coriander and preserved lemon on sourdough. The Flammekueche for the mains start at the very good value of £5.95, include:  salmon with avocado, capers, courgettes, tomatoes and dill; pulled pork with smoked bacon, chilli and hoisin sauce; Parma ham with parmesan and rocket; beetroot, poached pear, spinach and goats cheese.  Flammekueche makes scrummy desserts too – mixed berries with meringue and chocolate sauce; poached pear with chocolate, roasted almond, meringue and ice cream or cinnamon apple compote with cream.
The 55-cover family-friendly restaurant is located in the £28 million newly renovated Grafton Centre by the Vue cinema.  Modern, bright with striking trellis, it features an open kitchen and has individual and communal seating.  The eye-catching yellow converted old Citroen H Van stands as the bar stocking a carefully selected range of drinks – red, white, rosé and sparkling wines, soft drinks and beers including Amélie's own golden ale from local Nethergate Brewery.
The Grafton Centre Manager, John O'Shea, said: "Amélie Restaurant is a fantastic addition to the ever-growing offering at The Grafton and I'm delighted that it will be the first name to open in our brand-new Food Social area of the centre. Regis has established himself as one the top names in the food world in Suffolk and I'm thrilled that he's chosen The Grafton for his newest location, I'm sure it will prove extremely popular with the people of Cambridge. It is an extremely exciting time for the centre, as the arrival of Amelie Restaurant marks the official opening of Food Social at The Grafton. I'm looking forward to working with Regis, Alex and the entire team over the coming weeks and months."
Amélie Restaurant will open on Thursday 2nd August and until Sunday 12 August, customers will be offered 50% discount on all food. No reservations are required.
Open 7 days a week: Monday -Thursday 11am – 10pm, Friday & Saturday 11am – 11pm, Sunday 11am – 10pm.